Get together meeting of current students and alumni of the Central European University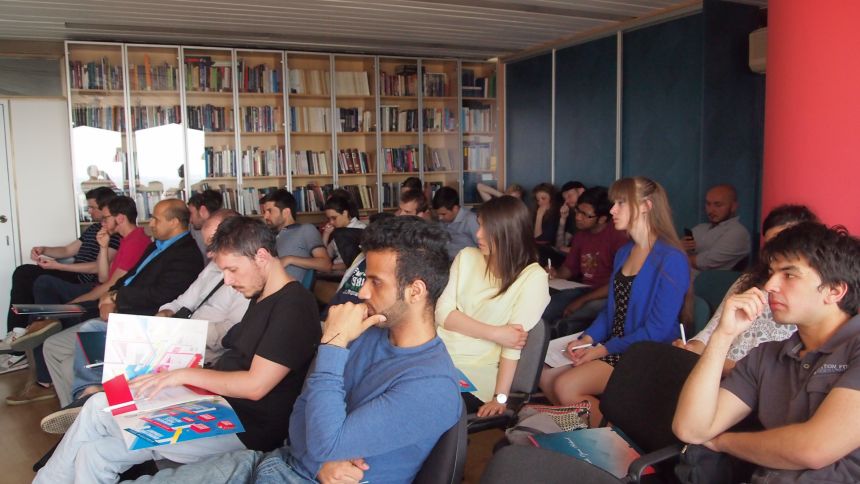 "CEU Trip to Belgrade" event which gathered former, current and future students of the Central European University (CEU) was held on Friday 10th June in the Belgrade Open School (BOS). Around twenty students from all over the world, who are currently studying at the CEU in Budapest, came in Belgrade for a study visit. During the visit, get together meeting with the CEU alumni network in Serbia was organized with aim to strengthen the CEU family over the world. Serbian students who are going to start their master or PhD programs at the CEU in academic 2016/2017 year also participated in this event.
Within three-hour session some of the CEU alumni gave presentation to the participants. Lectures had purpose to introduce social-political development of Serbia to current CEU students. Mr Aleksa Anđelković, lawyer and alumni from 2006/2007 generation on MA program in Legal Studies, gave a first lecture. Mr Dušan Pavlović, professor of the Political Economics at the Faculty of Political Science in Belgrade and the CEU alumni of 1997/1998 generation and Mr Nikola Burazer, alumni of the MA program in Nationalism Studies generation 2014/2015 discussed with the group about the socio-political situation and challenges within the ongoing processes of the reforms and the EU integration. Mr Burazer talked about importance of Kosovo in historical and current Serbian-Albanian relations.
Representatives of non-government organization Atina, devoted to fight against human trafficking, showed participants a movie named "Migrant crises – Reaction of Serbian government and Civil Society Organizations" followed by discussion about migrant crisis and position of Serbia within it. This event was organized in cooperation among the CEU alumni network in Serbia and the Belgrade Open School. CEU students study visit was conducted on initiative of the first Serbian CEU Alumni Scholarship grantee, Mr Darko Majstorović who is now doing his MA in Nationalism Studies at the CEU.
Pictures from this event are availabe in gallery.
16. Jun 2016.