About possibilities for academic mobility and specialization at the University of Belgrade Scholarship Fair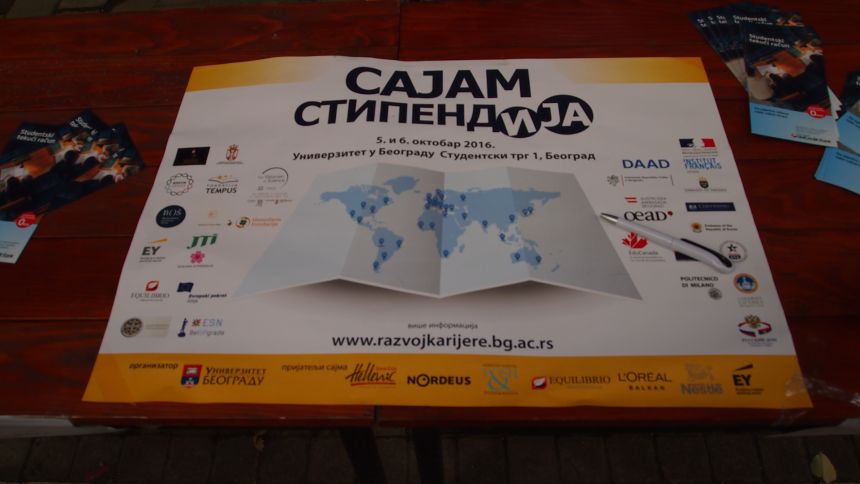 The Belgrade Open School (BOS) within the University of Belgrade Scholarship Fair presented MA and PhD study programs of the Central European University (CEU) and the Civil Society Scholar Awards for doctoral programs supported by the Open Society Foundation (OSF).
In the University of Belgrade administration and governance building located at the Students Square, numerous students visited BOS stand and got information on MA and PhD programs, scholarships, process and deadline for submission at the CEU, as well as information regard to co-financing of research project for PhD students and employees on the universities, supported by the OSF. Students interested for enrollment at the CEU in 2017/18 had opportunity to make an appointment for individual consultations with BOS educational advisor. Visitors had chance to talk to MR Vlade Madzarevic, alumnus of the MA program in International Relations at the CEU and to hear his experiences about the program, lectures, exams, but also about the life in multicultural surroundings of the capital of Hungary.
This year, within the Fair there was organized additional program named "15 tips in 15 minutes". During this event representatives of the exhibitors at the Fair presented their programs to visitors at the congress hall. Educational advisor at the BOS, Ana Stevanovic presented the CEU and the OSF programs to visitors, and students who had some more questions and doubts about programs could talk to Ana during group consultations after presentation.
Scholarship Fair was organized by the Center for Carrier Guidance of the University of Belgrade and during the event more than 40 institutions presented their programs.
More pictures you can see in our Gallery.
07. Oct 2016.