Pre-New Year presentation of the CEU scholarship program in the BOS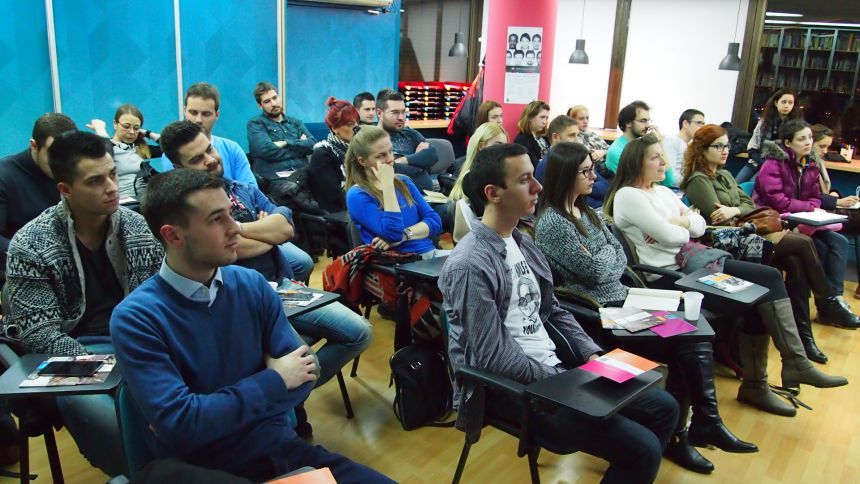 Students who are interested in further academic development at one of the MA of PhD program at the Central European University (CEU) gathered on the 28th December 2016 at the premises of the Belgrade Open School (BOS). Around thirty students had opportunity to talk to CEU alumni students and to hear useful tips about preparing application.
At the beginning of the presentation students were greeted by Ana Stevanovic, project coordinator on the program of academic counseling in the BOS. Ana introduced students with BOS activities in area of academic counseling and explained the role of the BOS in promotion of the CEU programs and scholarships. Later on Jelisaveta Jovanovic, project assistant in the BOS presented available MA and PhD programs at the CEU as well as possibilities of gaining scholarship.
After that, CEU alumni Jelena Jovanovic, Katarina Belic, Sara Pendjer, Vlade Madzarevic, Jovan Savicevic and Darko Majstorovic shared with students their experiences regarding studying and living in Budapest. Gathered students had shown interest and will to improve their applications, so they asked alumni questions regarding application preparation. CEU alumni we willing to answer questions and give advices to students. They also pointed out difference that exist in educational system in Serbia comparing to the one at the CEU.
At the CEU there are more than 39 different programs at 13 departments. This university is also well known for large number of scholarships available to students. Call for applications for MA and PhD studies is opened until 1st February 2017. More about the call you can read here.
02. Feb 2017.