Representatives of Political Parties from the Region Gathered at Silver Lake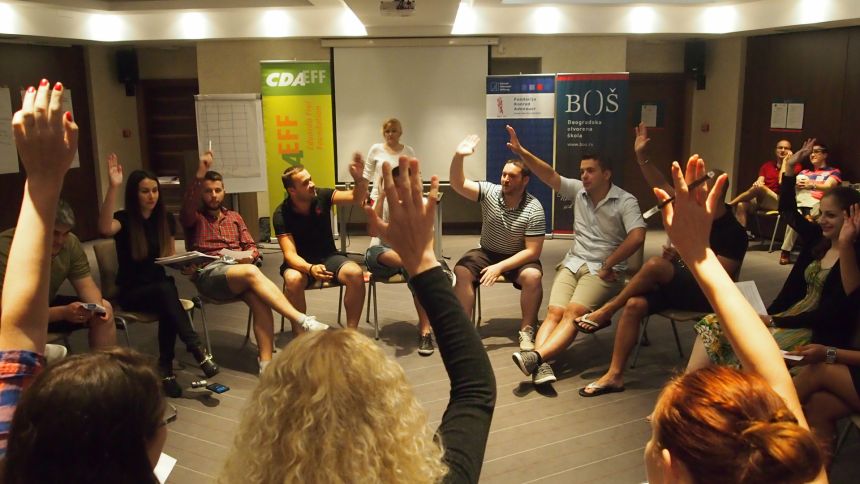 Belgrade Open School, together with the Konrad Adenauer Foundation and Eduardo Frei Foundation, implemented the ninth Regional school of democracy "New Leaders - New Opportunities" for the representatives of youth organizations of relevant political parties in the region, which are partners with the Konrad Adenauer Foundation. Ninth Regional school of democracy "New Leaders - New Opportunities" was held this year at Silver Lake, in the period 6-10 of July, 2015.
20 young people, representatives of political parties from Serbia, Montenegro, Macedonia, Croatian and Bosnia and Herzegovina gathered at Silver Lake (Serbia) and jointly attend a program for enhancing capacity through interactive lectures, workshops and trainings.

Trainers and lecturers of the Belgrade Open School and the Eduardo Frei Foundation spoke to participants about issues and challenges in the field of: teamwork, basic values ​​of demochristian and center-right parties, they disccussed about the differences that exist between civil society and political actors, ways of building coalitions and coordinating them. The debate had been about the electoral system, the organization of power and politics, as well as challenges concerning the EU, its enlargement, as well as interior organization, primarily, questions of the European Parliament and of the parties structure at the same time.
13. Jul 2015.