PolitiKAS: The end of the fall semester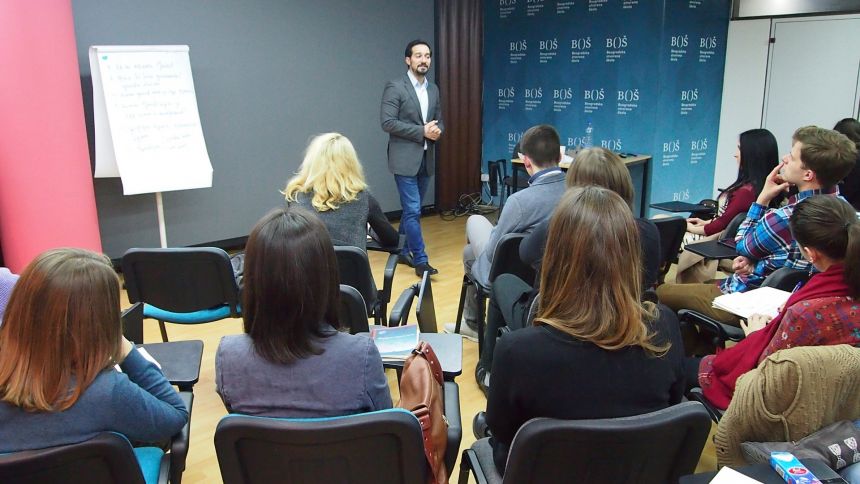 On Tuesday, December 15, 2015, participants of the educational programme PolitiKAS attended the last lecture in the fall semester of the academic year 2015/2016. year. This lecture closed the both modules in the fall semester - Politics I and European integration.
At the last lecture of the semester, the participants talked with professor Tanasije Marinkovic, on the topic of critical view on the Constitution of the Republic of Serbia.
Polaznici obrazovnog programa su imali prilike da u jesenjem semestru razgovaraju sa različitim stručnjacima kroz deset blokova predavanja. Kratku pauzu pre početka drugog semestra, polaznici će iskoristiti za izradu eseja na zadate teme, koji predstavljaju jedan od zadataka na obrazovnom programu.
In the fall semester the participants of the educational programme had the opportunity to talk with different experts in ten blocks of lectures. A short break before the start of the second semester, students will use to write an essay on a given topic, which represent one of the tasks on the educational programme.
In addition to lectures on the two modules, participants in this semester had a chance to participate at the School of teamwork, held in November 2015. in Vrnjacka Banja.
Lectures on the program will continue in February 2016. when participants will have the opportunity to continue their activity on the remaining two modules.
30. Dec 2015.