PolitiKAS: Special Lecture "Challenges of the Social Market Economy"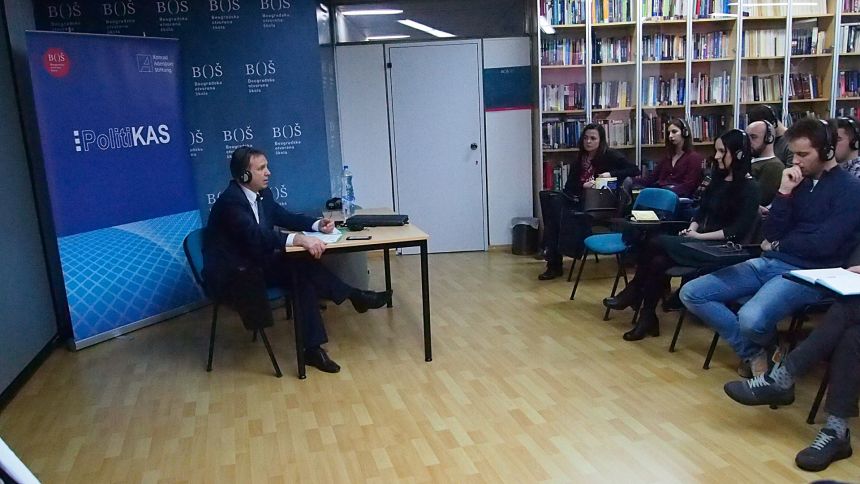 The participants of the educational programme "PolitiKAS" together with their colleagues, Konrad Adenauer Stiftung scholarship students had the opportunity to listen to the lecture of Mr. Dieter Althaus who spoke to them on the topic "Challenges of the Social Market Economy", on Tuesday, 8th of March, 2016.
Guests at the lecture were Mr. Norbert Beckmann-Dierkes, Ms. Gordana Pilipovic, Mr. Sasa Hadzimanovic and Ms. Katarina Pesic.
Lecture was moderated by the executive director of the Belgrade Open School, Milorad Bjeletic, who, in his opening statement explained the importance of the topic for the students of the programme.
Mr. Dieter started the lecture with a brief theoretical presentation of importance of the social market economy in Germany, as well as the necessity of creating a balance between market economy and social responsibility. After the introduction, the floor was given to the participants for further discussion. Given the rich experience of the lecturer, questions were asked from various fields.
Mr. Althaus shared with the participants his experience in politics explainig that he began to get involved in politics because of the assumption of responsibility for a better society.
One of the issues that was raised was the role of the internet today, and they discussed the benefits and dangers of the availability of information on the internet.
The lecture finished with discussion on the current issue of migrant crisis.
10. Mar 2016.