PolitiKAS: Team-building school was held in Sabac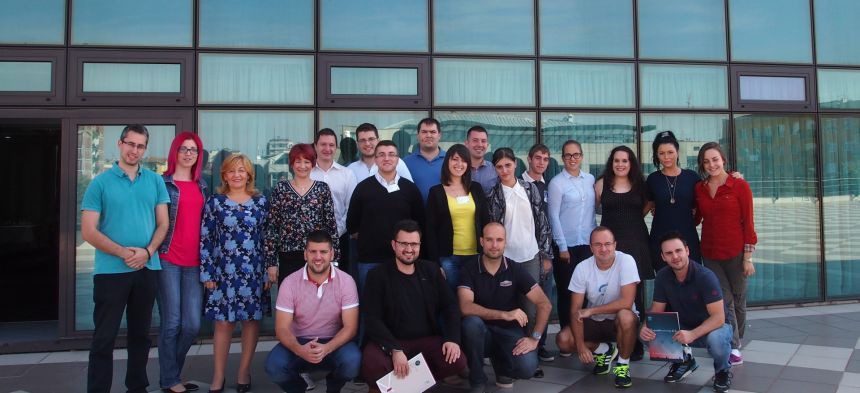 The Belgrade Open School (BOS) and the Konrad Adenauer Foundation (KAS) organized the School of teamwork, at the hotel "Sloboda" in Sabac, in the period 27-29. September, for participants of VIII generation of educational programme "PolitiKAS".
School of teamwork was an opportunity for the participants of VIII generation of "PolitiKAS" to get to know each other, but also to meet the organizers of the educational programme, which they will attend following year. This year the programme brings together 25 participants who are activists of the seven political parties, but also the representatives of students' parliaments and non-governmental organizations.
Trainers at the School of teamwork were Vesna Djukic, General Director of the BOS, Milorad Bjeletic, Executive Director of BOS and Vladimir Pavicevic, academic adviser of BOS.
Participants of VIII generation had the opportunity to learn more about communication and coordination within the team, as well as conflicts of interests and decision-making in a team. They learned how a group creates a political team, which roles there are, and how decisions are made in the team. They had the opportunity to listen and learn about academic writing due to the fact that writing an essay is one of the mandatory activities in this educational programme. In addition, topics such as team development and leadership were discussed interactively at the School.
The educational programme "PolitiKAS" is intended for young leaders from Serbia, representatives of political parties of the right center and moderate right-wing and activists of civil society organizations who advocate these values in their work. The aim of this two-semester educational programme is, on the one hand, to provide students with additional knowledge in the field of contemporary political theory and practice, that will contribute to the improvement of their political work, and on the other hand, networking of the participants to encourage their cooperation important for successful advocacy of ideas and values of their organizations.
03. Oct 2016.