Educational program "Education through the culture of rememberance - Holocaust studies in Serbia"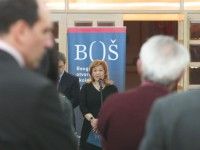 Educational program "Education for a culture of remembrance - Holocaust Studies in Serbia" was officially opened on Tuesday, March 12th, 2013in the premises of the Dom Vojske Srbije. The program was initiated by the Center for Religious Studies (CIRel) of Belgrade Open School (BOS), in cooperation with the International School for Holocaust Studies Yad Vashem and the Jasenovac Committee of the Serbian Orthodox Church.
This educational program is organized to raise awareness about the importance of remembrance of the Holocaust in the Western Balkans, underlining the cultural and historical importance of this topic. The emphasis is on the educational significance of the transfer of relevant knowledge to future generations, in order to timely deal with consequences such as xenophobia , ethnic cleansing, racism, anti-Semitism and other forms of violence and intolerance

The program lasted until 15 March and included lectures, workshops and a tours of the memorials and other sites related to this topic in Belgrade, as well as meetings with some of the camp survivors. This educational program was attended by forty graduates or final year students of the humanities and social sciences and the faculty of the University of Arts in Belgrade. In order to ensure the relevance and actuality of knowledge the participants will acquire, a team of eminent speakers from Serbia and the International School for Holocaust Studies Yad Vashem was established.

The opening ceremony was attended by the representatives of public authorities, embassies, Serbian Orthodox Church, the Lutheran Church, the Association of Jewish Communities and the representatives of German political foundations and attaches the OSCE, the UN and the Council of Europe.
The Opening ceremony started with the speech delivered by Vesna Djukic, General Director of BOS, following the speaches of Jovan Culibrk Bishop of Ulpiana, the coordinator of Jasenovac Committee of the Serbian Orthodox Church and Eyal Naor, the Deputy Ambassador of Israel to the Republic of Serbia.