Conference Pact for Youth – Strengthening Partnerships to Foster Youth Employability and Social Inclusion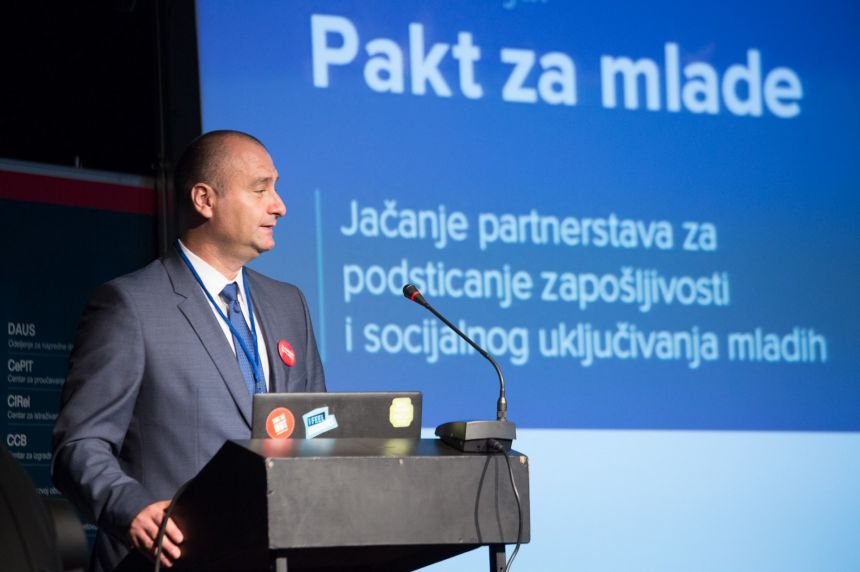 With regard to promotion and introduction of stakeholders and public with European pact for youth in Serbia, the Belgrade Open School (BOS) together with its partner Smart kolektiv, and with support of Social Inclusion and Poverty Reduction Unit (SIPRU), organized conference named "Pact for Youth" which took place on the 19th September, 2016 in the Belgrade Youth Center.
In order to
bound
high rate of youth unemployment in Europe, European Youth Forum established
platform
for advocacy of quality internship for youth on
European
level. From the other
side
The European Business Network for Corporate Social Responsibility (CSR Europe) initiated European pact for youth with an idea to gather representatives of youth, business sector, educational institutions, social partners in order to develop and secure
partnership
for support of employment and social inclusion of youth.
State Secretary in the Ministry for work, employment, veteran and social affairs Nenad Ivanisević and manager of Social inclusion and poverty reduction unit Ivan Sekulić opened the conference. Nenad Ivanisević pointed out that increasing of youth employment is one of the top priorities in Serbian Government agenda. Ivan Sekulić said that this conference presents continuation of activities of Social inclusion and poverty reduction unit directed towards promotion of youth position on labour market and their social inclusion which is part of National dialogue on youth employment promotion in Serbia.
Celia Moore, member of Board of Directors of CSR Europe and Lora Lyubenova, member of Board of Directors of European Youth Forum spoked to the gathered participants and pointed out importance of this kind of membership for youth employment.
Bojan Velev from the BOS was moderator on the last session named Better opportunities for work experience for better employability of youth. During this session presentation named Looking for a high quality Internships and Apprenticeships was shown to the participants. Panel discussion named Models and measures for the inclusion of young people into the labour market and regional experiences in Croatia and Montenegro was held in order to show experiences of professional training of youth in the region.
29. Sep 2016.